Select Payment Gateway:
1st of all you have to select payment gateway from back end so please go to Wp-Admin Dashboard
Ads Listing System
Listing Settings
Payment Settings
Here you will select payment gateway that you want to use as in the attached image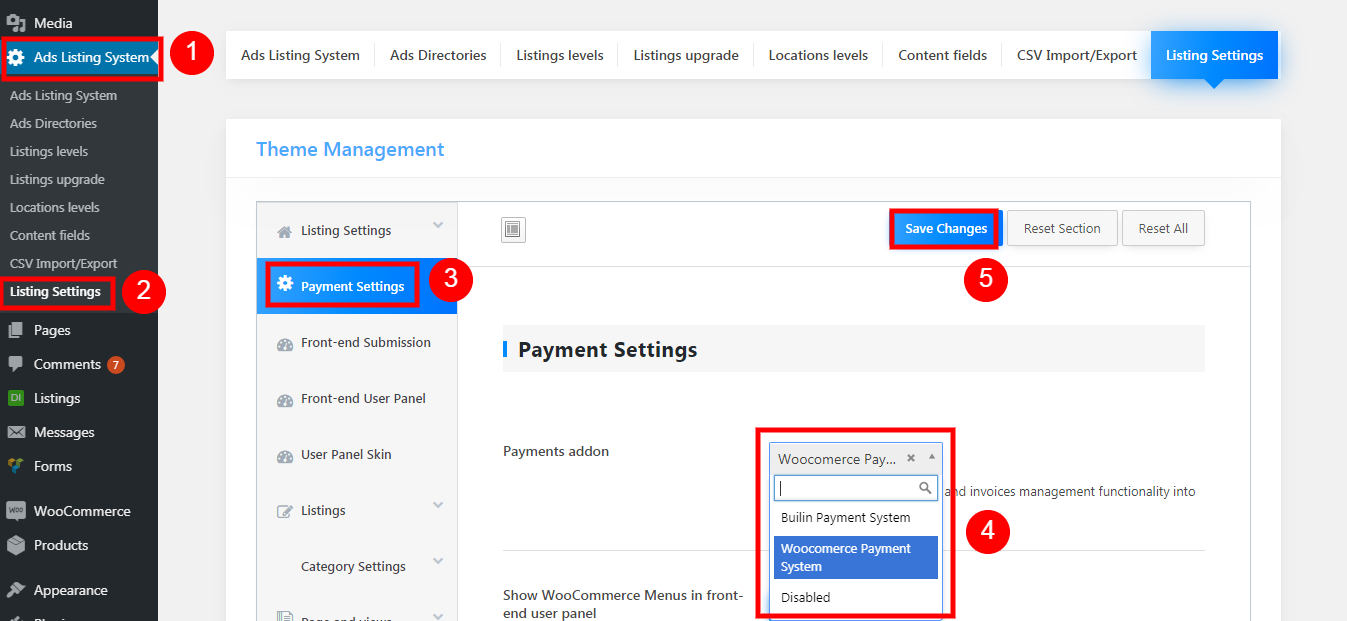 Payment Setting for Built-in:
Here you will set payment for listing levels, you can see here all the settings you need to set
Selection of Payments addon
On checkout page subscription enabled by default
Currency
Currency symbol or code
Currency symbol or code position
Decimal separator
Hide decimals in the levels price table
Thousands separator
All Tax settings are available here like Tax name, tax rate etc..
Allow bank transfer & Bank transfer information
Pay pal settings are include here like PayPal Business email, Allow single payment By PayPal, Allow subscriptions By PayPal and PayPal Sandbox mode
Stripe settings like Stripe Test secret key and Stripe Test publishable key

Payment Setting for Woo-Commerce:
Please go to Wp-Admin Dashboard -> Woo-commerce -> Settings -> Here you can change the Currency Settings for Store with Woo-commerce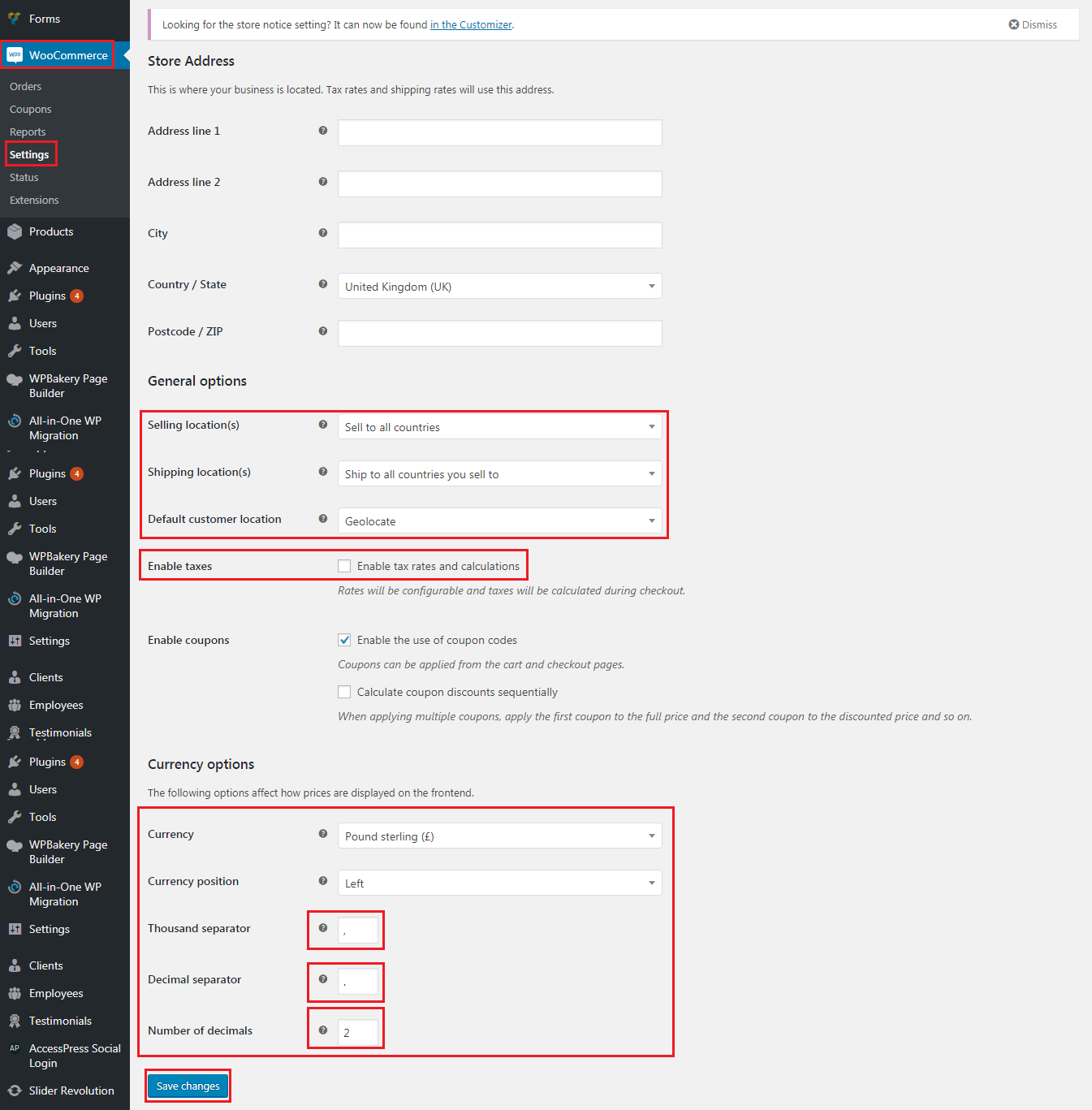 Create a New Level:
Please go to Wp-Admin Dashboard
Ads Listing System
Listings Levels
Create levels, For Example, Free Package – Normal Package – Best Package etc…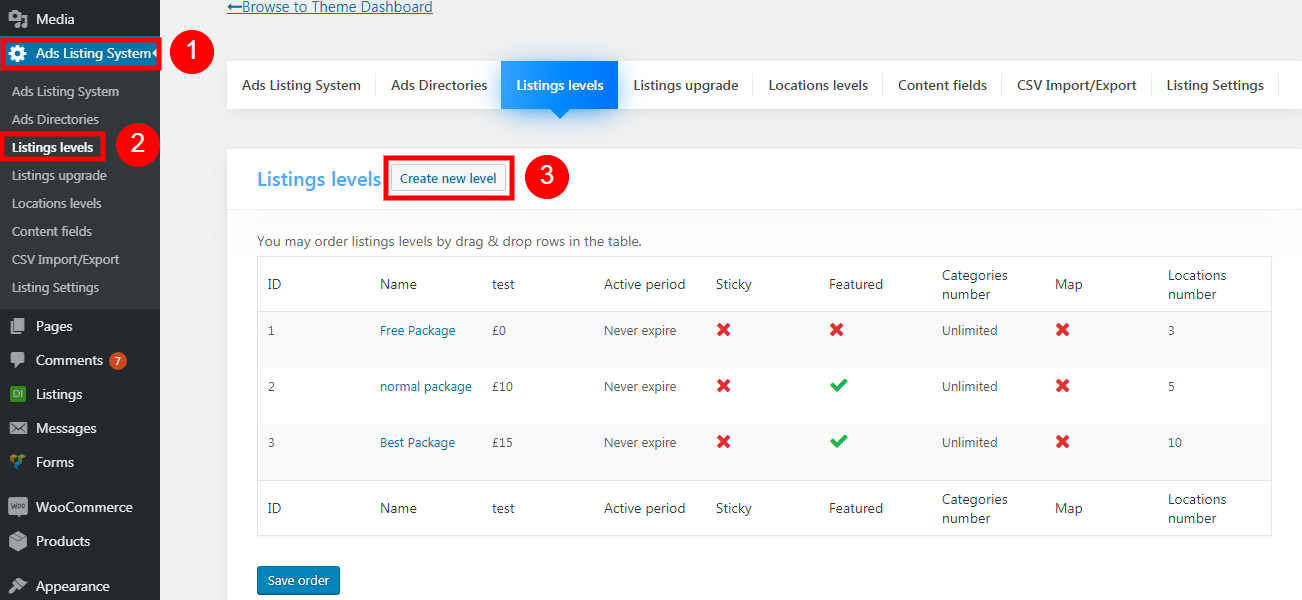 Options include while creating listing levels so please see the attached image check the rest of the options and set according to your choice for this level, hit save.
Level name
Level description
Eternal active period -> Checked/unchecked this option for level expiration date
Active period -> Here you can set expire date of level after unchecked the above option
Change level after expiration can be set here -> After expiration listing will change level automatically.
Number of listings in package -> Enter more than 1 to allow users get packages of listings. Users will be able to use listings from their package to renew, raise up and upgrade existing listings.
Ability to raise up listings
Sticky listings -> Listings of this level will be on top
Featured listings -> Listings of this level will be on top and marked as featured
Do listings have own single pages? -> When unchecked – listings info will be shown only on excerpt pages, without links to detailed pages.
Enable nofollow attribute for links to single listings pages
Enable map -> Here you can Enable/Disable map for the level
Enable listing logo on excerpt pages
Make This Level Featured/Popular
Allow Resurva Booking
Images number available
Videos number available
Listings price can be set here
Listings raise up price
Locations number available
Custom markers on the map
Categories number available
Assigned categories
Listing Types number available
Assigned Listing Types
Assigned locations
Assigned content fields

Your listing levels will look like this.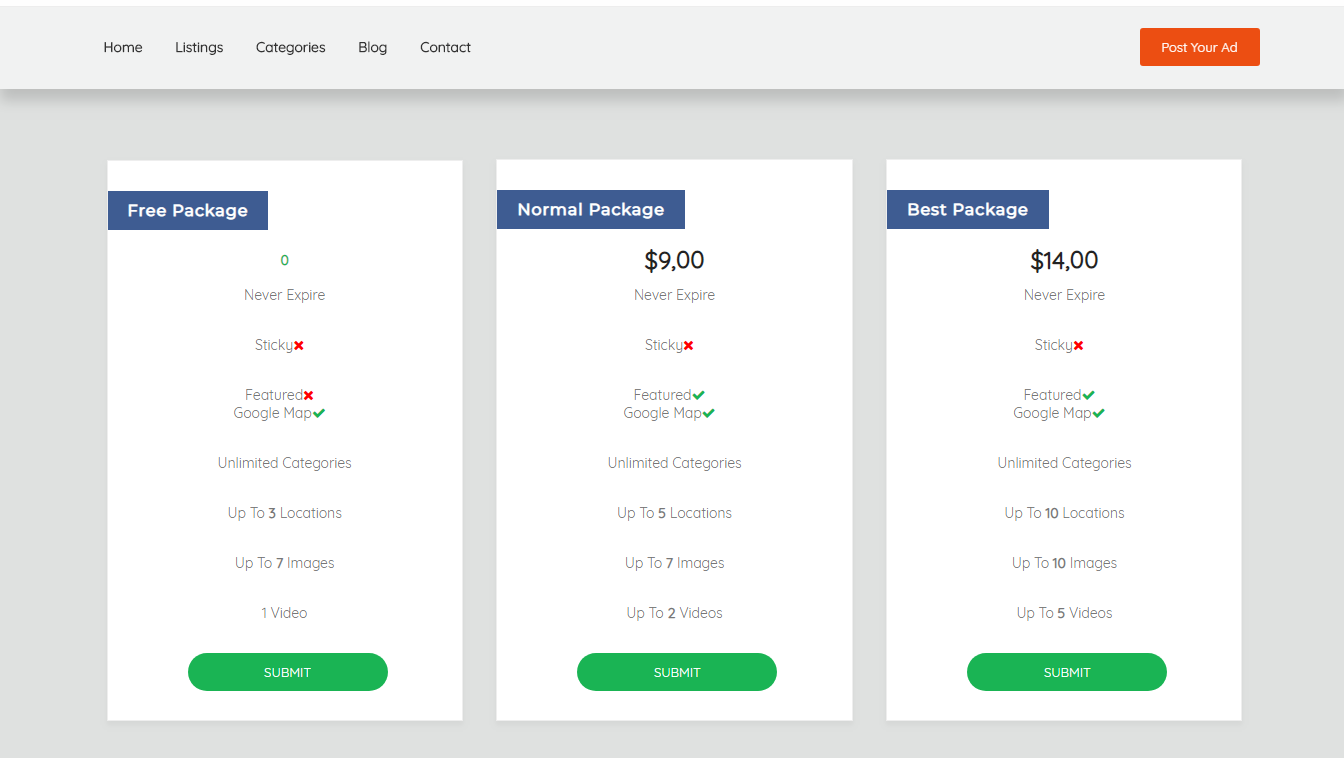 For Woo-Commerce Payment Gateway:
You have to select the "Woo-Commerce payment gateway" from backend by going to Wp-Admin Dashboard > Ads listing system > Listing Settings > Payment Settings
For Woo-commerce you will create the level same as it is in above mentioned but the price for this level will be select by going to "Products" here you have to create products name it may same as listing levels or any other, Here we have created same products as listing levels.
Edit listing levels one by one and set price, You can also set the price while creating "Products"
Regular Price
Sale Price
Listing raise up Price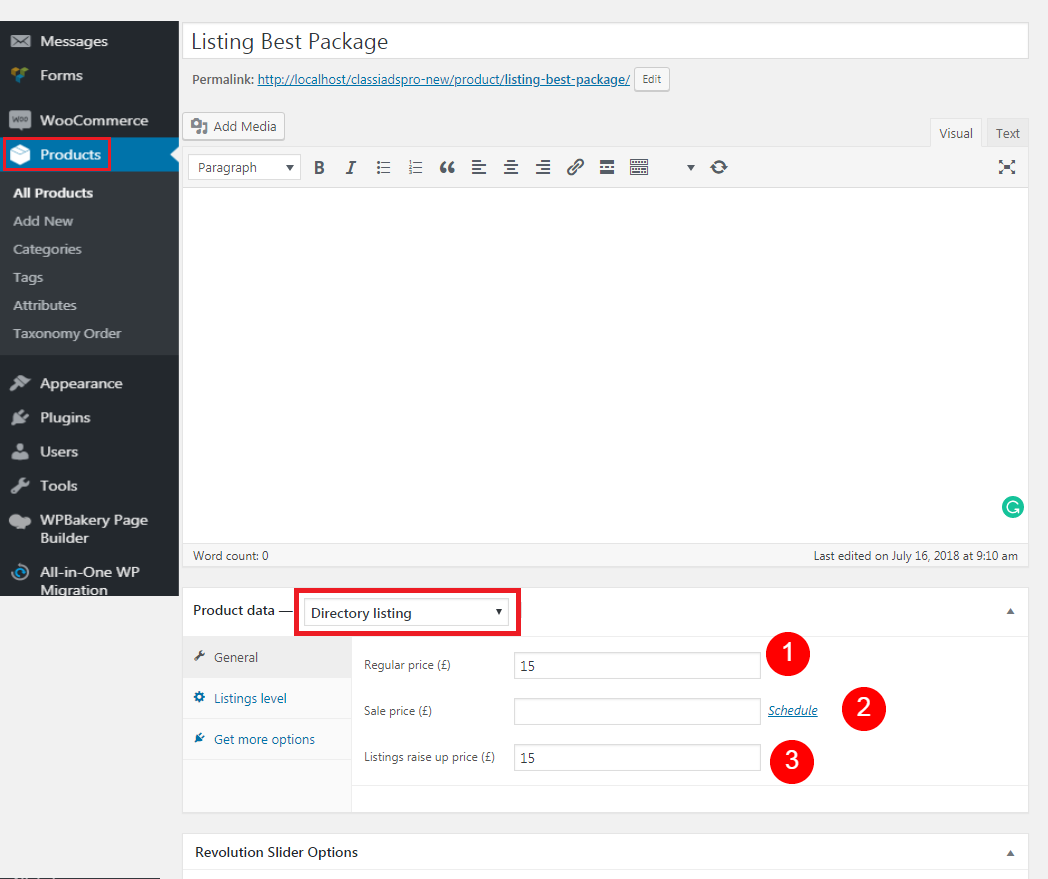 Then Click on Listings level and select here listing level it may same or change, Remember you can only select one level for one Product.

Your listing levels will look like this.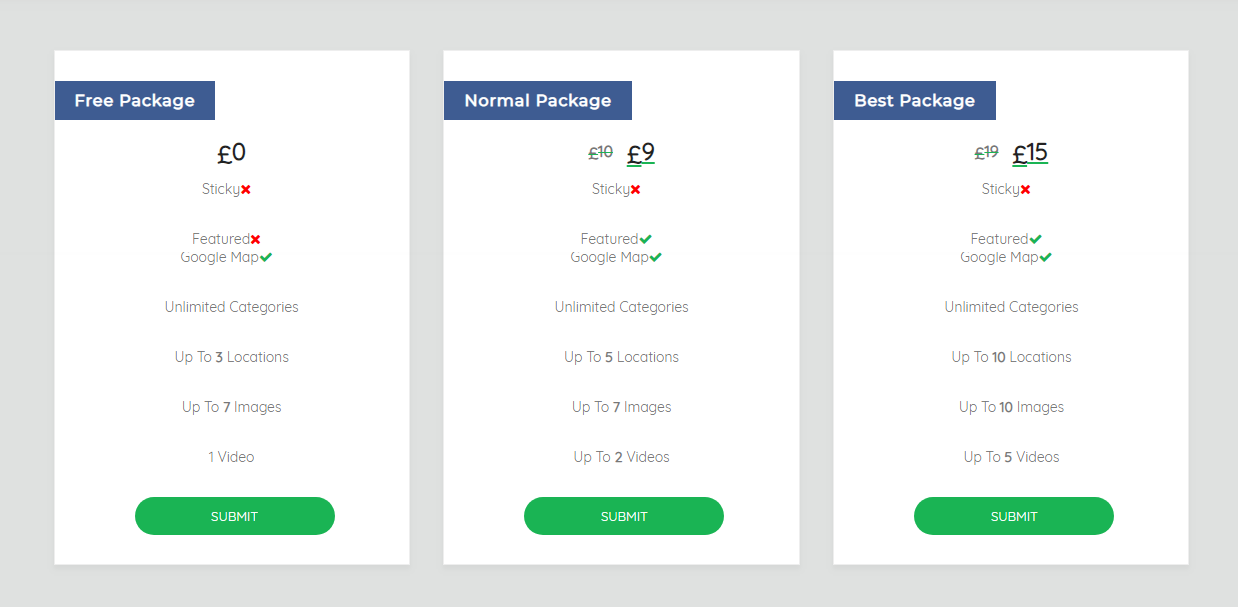 Your listing levels are done!
Hope you will like this Article